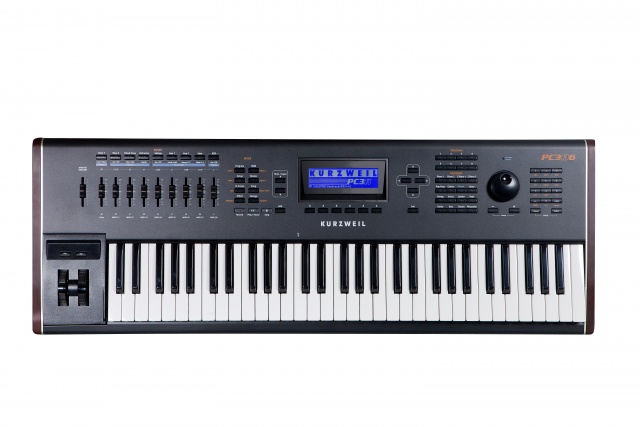 The Kurzweil PC3A6 Key Stage Piano is the most astonishing stage piano of slim and dependability.
The Kurzweil PC3A6 is the most valuable and popular stage piano widely used as a compact style digital piano.
Being the 61 Key digital piano. The Kurzweil PC3A6 Stage Keyboard is one of the most used in gigs because this state-of-the-art digital piano is very portable.
Widely used in schools, churches gigs, stages, studios, and etc. This dynamic digital piano is a high tech musical gadget that you can conveniently carry around inside a backpack.
"The Most Dynamic Compact Stage Keyboard/Digital Piano Ever"
The Kurzweil PC3A6 is on a stage with sophisticated audiences watching you perform with your hands moving graciously across the keys…
Even the sheer imagination of playing the Kurzweil PC3A6 excites most people.
You will be instantly attracted by Kurzweil PC3A6's compactness and just by even imagining the how practical the Kurzweil PC3A6 can be. What if you actually play it? It would be a pure bliss!
Okay, now we all know the Kurzweil PC3A6 comes with an attractive slim/compact aesthetics…
But, the modern /slim design is actually not the only excellent thing about the Kurzweil PC3A6… There is way more to the Kurzweil FPC3A6 than it's design!
For example, the Kurzweil PC3A6 is modeled after classic Hammond, Vox and Farfisa organs.
Featuring all the controls you want and more, including 9 realistic drawbars.
ALSO,
This amazing stage piano is actually designed to contain the most convenient controls.
You may just take it from me. But let me explain as well.
The Kurzweil PC3A6 features all the controls you want and more, including the Front Panel Master Compressor, The 3-Band Master EQ, Easy Access Controls, Sound/Favorites selection, Multis ….. and much more!
Priced at $2495, with many different controls, functions, exceptional sound chip, and the gig-friendly design, The Kurzweil PC3A6 would be the digital piano that can fulfill your dreams.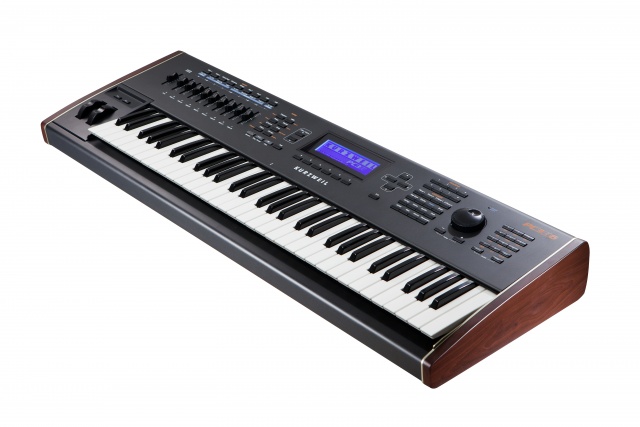 SOUND
The sound of the Kurzweil PC3A6 is recognized world-wide as one of the most purest sound producing digital piano.
The Kurzweil PC3A6 brings dynamically allocated 128 polyphony specifically designed for lightning fast performance.
The Kurzweil PC3A6 is also included with the KB3 ToneReal Organs just like the Forte.
Kurzweil PC3A6 however does not have a built-in speaker as a stage piano.
Thus, it is recommended that a high quality headphone or a high quality speaker be used.
What we can talk about is the sound chip of the Kurzweil PC3A6. The sound chip of the PC3A6 is known to be worlds best sampled and programmed sound since it features the best of the PC3K, KB3 ToneReal Organs and the KORE64 sounds.
Unleash the musician inside of you through the PC3K pack and the KORE64 collection in addition to the Japanese concert grand piano, Rhodes, Wurlitzer, Clav, Harpsichord, Orchestral Percussion, Celeste, Glockenspiel, Chimes, Bells, Crotales, new piano, Vintage Electric pianos, Clavinets, Sythesizers, rich and realistic String Selections, Orchestras, Guitars, Percussions and more.
---
TOUCH & ACTION
Kurzweil uses the Fatar TP9 action which is the best action you can ever find on Kurzweil Pianos.
This is also known as the 61-note lightly-weighted synth action with velocity and aftertouch sensitive keys.
Fatar TP9, or the A.K.A., 61-note lightly-weighted synth action with velocity and aftertouch sensitive keys is really a self-explanatory action system.
In other words…
Kurzweil PC3A6 uses the Fatar TP9, which has 61 notes and they are specially designed with lightly-weighted action keys that gives you a softer and fluid action feel as you perform the piano.
The velocity sensitive keys recognize the strength at which key is pressed and the keyboard will react with one of the greatest responsiveness the after touch effect gives more comfort to the players enriching the performance…
In simpler words…
Kurzweil PC3A6 is recognized as one of the most fluid and softest of all digital piano actions out there.
FUNCTION
Kurzweil PC3A6 has many functions that can satisfy the users.
Sound| Kurzweil PC3A6 has extensive and expressive sounds including award winning New German Grand Piano, all taken from the V.A.S.T. PC3 engine, KB3 ToneReal Organs and the KORE 64 expansion.
Layer| With this technique, you can play two different sounds simultaneously on one key. You will be able to play piano and string sound or piano and organ sound at the same time. You will be able to make the performance more beautiful and will give you more enjoyment. Kurzweil offers a quick layer option with easy access and adjustable relative volume.
Split| You can play two different instrument sounds on each hand within a keyboard. For example, left hand can play vibraphone, right hand can play piano; it gives effect of one person playing two different instrument sound. Kurzweil offers a quick split option with easy access and adjustable relative volume.
Presets & Programs | Kurzweil PC3A6 has over 1453 factory presets as well as 216 factory programmed MIDI setups that features up to 16 independent zones, effects, independent controller assignments, triggerable pattern-based "Riffs" and arpeggio.

1300+ Factory Programs!

Transpose | You can easily harmonize with different instruments with this function.

Easy Access Transpose Buttons– Convenient -/+ controls located right on-screen.

Master FX Section | With the special powerful FX Engine, you have options of hundreds of Kurzweil's award winning effects – reverbs, delays, chorus, flange, phaser, EQs, distortions, rotary speaker simulators, compressors, and more.

Powerful FX Engine

Other functions include 240 x 64 angled-backlit CCFL with front-panel brightness adjust screen, 29 Programmable Physical Controllers, Front Panel 3-Band Master EQ, MIDI Controller, USB connector that connects to PC/Mac/Flash Drive and more.

29! Programmable Physical Controllers
Options
Options for Kurzweil PC3A6 include variety of x-stand and x-benches you can purchase separately.
WARRANTY
Warranty coverage of Kurzweil products are 2 year part and labor warranty plus parts warranty of 1 year. Totaling at 3 years of warranty.
FINISH
The Kurzweil PC3A6 comes out in only 1 color. Which is the black color.
---
SPECIFICATION
****Trouble seeing the specification table on your gadget? Here is the original specifications page: http://kurzweil.com/product/pc3a6/specs/
All specifications subject to change without notice.
| | |
| --- | --- |
| Keyboard: | 61-note lightly-weighted synth action with velocity and aftertouch sensitive keys. (Fatar TP9) |
| Display: | 240 x 64 angled, backlit CCFL w/ dedicated back panel brightness and contrast controls. |
| Polyphony: | 128 Voice Polyphony, dynamically allocated, lightning fast performance. |
| Multitimbral: | 16 parts (one per MIDI channel). |
| Architecture: | Dynamic VAST: Powerful synthesis engine, with user programmable DSP algs and routing. More DSP power than even our K Series instruments.VA1 Inside: anti-aliasing, power-shaped oscillators and DSP processing from Kurzweil's VA1 concept synth, capable of delivering authentic analog emulations as well as incredibly complex new sounds.Cascade Mode: lets the user route one layer through the DSP of any other layer within a program – up to 32 consecutive layers deep! |
| Sound ROM Expansion Slots: | Includes KORE 64™ and the German D Grand EXP Piano built-in. |
| Desktop Editor: | Mac and PC platforms |
| Factory Presets: | 1453 Stunning Factory Presets. |
| Factory MIDI Setups: | 216 factory programmed MIDI setups – featuring up to 16 independent zones, effects, independent controller assignments, triggerable pattern-based "Riffs" and arpeggiator settings. |
| File Compatibility: | Loads from:-PC3K: All objects except samples.-PC3LE: All objects.-K2 Series: The majority of Setups, Programs, and Keymaps (no sample loading; see the manual for details). |
| General MIDI: | Standard. |
| User Memory: | 16,000 locations for user objects. |
| Sequencer: | Unlimited tracks (on import); 960 PPQ resolution. Song editing functions include both event and track-based tools like quantize, swing, remap, controller scaling and more. Controller chasing and a global "set song length" functions are also featured. |
| Effects: | 16 insert effects distributed over 11 busses, two auxiliary sends and two Master Effects (saved with each song and setup); featuring hundreds of our award winning effects – reverbs, delays, chorus, flange, phaser, EQs, distortions, Leslie simulators, compressors, and more. |
| Master FX Section: | User controllable master EQ section and master compressor for quick adjustments during live performance or putting the final touches on your studio mix. (These do not use up the insert effect resources.) |
| Controllers: | Pitch wheel, modulation wheel, 9 front panel sliders/drawbar controllers, 10 front panel switches (momentary or toggle, software selectable), 3 switch pedal input, 2 continuous control pedal inputs, mono pressure, Super Ribbon input, breath controller input. Controller values can be "captured" and stored as part of a program. |
| Arpeggiator: | 16 full-featured independent arpeggiators with multiple latch modes, selectable play order, velocity, duration, tempo, and sync functions as well as pre-recorded beats and musical phrases. |
| Riffs: | 16 unique "Riff" generators, used for triggering MIDI sequenced phrases, beats, or complete multi-track arrangements from notes on the keyboard and/or any on-board physical controller. |
| Analog Outputs: | Four 1/4″ balanced TRS analog (24-bit DACs). |
| Headphones: | 1 rear panel 1/4″ headphone output. |
| Digital Outputs: | 24-bit, stereo S/PDIF featuring 44.1, 48, 88.2, 96, 176.4, and 192-kHz modes.(externally clockable) |
| MIDI: | In, Out, Thru (hardware switchable to copy of MIDI Out). |
| USB Computer Port: | MIDI over USB. Also allows the PC3A to load/save data directly to and from a Mac/PC as well as perform OS updates. |
| USB Storage Port: | Supports USB thumb-drives for loading/saving user data as well as performing OS updates. |
| FREE OS Updates: | Flash ROM upgradeable via direct-USB or thumb-drive. |
| Included Accessories: | Power cable, Switch pedal, USB cable, (4) self adhesive feet. |
| Height: | (4.84″) (12.30 cm) |
| Depth: | (13.98″) (35.50 cm) |
| Length: | (39.37″) (100 cm) |
| Weight: | (30.86 lb.) (14.00 kg) |
| Power: | Internal AC power supply.Selectable 120/240V AC operation. |
Visit Las Vegas Music or call 1-888-355-0628 for the best price!!!