Casio PX160 Privia Series – Review & Best Price
Casio PX160 Privia Series has 88 key Tri-Sensor Scaled Hammer Action II with modern and prestigious design and convenient buttons.
Casio PX160 Privia Series, one of the best sold digital pianos online, is conveniently used by many users.
Produced as a portable with smaller speakers, Casio PX160 Privia Series is easily movable and best fit to be used in purpose of small areas, handy uses, dormitories.
Casio PX160 Privia Series is highly recommended for first time users for educational purposes of children. Per price ratio, Casio PX160  Privia Series has the best keyboard action.
New elegant look and redesigned speaker system highly improved from previous models, this state-of-the-art digital piano is available in black or champagne gold colored finish
Casio PX160 Privia Series is highly recommended for users who desire simple and convenient digital piano.
Also, the true beauty of Casio PX160 is the warranty.
This is an essential benefit that most customers overlook. Warranties are very important when it comes maintaining a product.
Warranties of most brands only cover parts and labor.
However, Casio will easily replace your products. Here is how…
The general warranty provided by Casio is 1 year plus 2 years additional after registration, making it 3 years total. The Casio warranty covers replacement of digital pianos when there are defectives…
Casio is betting to replace your CASIO Privia PX160, why? because Casio believe in the it's indispensable durability.
This is how much Casio is proud of the durability of their digital pianos; actually Casio has the lowest rate of defect products.
Casio PX160  Privia Series is priced at $499.99, with accessories such as stand (CS67), bench, 3-pedal (SP33) purchasable in addition.
Sound
'AIR Sound' is a newly developed sound technology by Casio and it expresses the original sound of piano. ('AiR' stands for Acoustic and intelligent Resonator).
Casio PX160 Privia Series has all 88-key Tri-Sensor Scaled Hammer Action II keyboard uses stereo resonance simulator which expresses sufficient details of piano sound.
Casio PX160 Privia Series has variety of sound choices such as Concert, Modern, Classic, Mellow, and Bright.
Casio PX160 Privia Series can also play instrument sounds such as harpsichord, string, Organ, Bass and many other 13 sounds.
Casio PX160 Privia Series also has the layer function which allows users to play with two different sounds at the same time.
Casio PX160 Privia Series also has transpose function that allows strength control of sound strength and allows easier play with another instrument.
With 128 Polyphony it will be able to play most of the songs.
The speakers are 8w x 8w with remarkable sound that attracts recognition.
This redesigned speaker system has improved dramatically.
The speaker system of Casio PX160 Privia Series is open to the front but also projected to the back, which provides grandeur sound when the PX-160 is placed against a wall.
It will create a sound that is multi dimentional sound that can bound off the walls. In a classroom settings or at home, this would be an amazing experience for listeners.
Casio PX160 Privia Series is great for home and educational uses. To have better sound quality, use headphones and/or amps.
---
Keyboard Action
Casio PX160 Privia Series, with 88-key Tri-Sensor Scaled Hammer Action II, has same size and action (Scaled Hammer Action) as an acoustic piano and with lower keys heavier and becomes lighter as keys get higher.

Casio PX160 Privia Series 88-key Weighted Scaled Hammer Action has an ebony and ivory textured keys that prevent fingers from slipping, gives prestigious look, and instills cleaner feeling.
Casio PX160 Privia Series has three sensors on the key that allows users to feel detail when controlling strength and even has an option that allows velocity and responsiveness control.
The Proprietary Hammer Response features provide timing nuance as it is programmed for different Hammer speed depending on the size of the hammer inside of an acoustic piano.
This feature gives the player the most realistic keyboard action experience that player will not get from other pianos.
Casio PX160 Privia Series has the best touch compared to other pianos within the price range.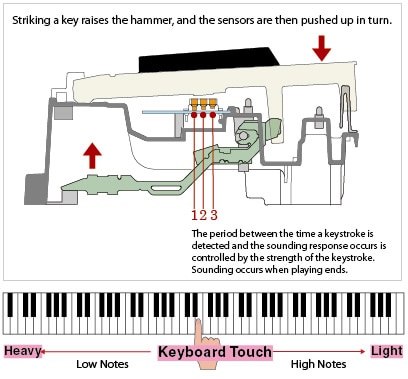 Functions
Casio PX160 Privia Series has many different functions
Lesson Function | 60 demo songs which you can play divided hands: assisted left and right hand lessons to practice each hand before playing both hands simultaneously.
Split | You can play two different instrument sounds on each hand within a keyboard. For example, left hand can play vibratone, right hand can play piano; it gives effect of one person playing two different instrument sound..
Duet mode | You can divide the keyboard into two separate keyboards with the same chromatic scale. This is will become similar to playing two different pianos; it is fit for performance or a lesson between a student and a teacher.
Layer | With this technique, you can play two different sounds simultaneously on one key. You will be able to play 'piano and string' sound or 'piano and organ' sound simultaneously on one key. You will be able to make the performance more beautiful and will give you more enjoyment.
Touch responsiveness control | You can change the strength of touch responsiveness to fit your style.
Other functions include, metronome function, recording, USB and other varieties of function. Especially, USB function allows connections to smartphones (i.e. iphones) and smartpads (i.e. ipads) which can be enjoyable. Connection to computer can allow composition function and many different useful functions.
Options | Basically, Casio PX160 Privia Series has keyboard, note holder, adapter, manual, demo song book, and switch damper pedal included.
For Casio Privia PX-160's, fitting cabinet stand (CS-67), x-style stand, bench, 3 pedal (SP-33)), covers, and headphones can be additionally purchased.
Company  Warranty
1+2=3 , 3 year full warranty.  In case of defect item claimed in 3 years, Casio will replace your product to a brand new one.
Color
Casio Privia PX-160BK (Black), Casio Privia PX-160GD (Champagne Gold)
---
TECHNICAL SPECIFICATIONS
****Trouble seeing the specification table on your gadget? Here is the original specifications page: http://www.casiomusicgear.com/products/menu_privia/PX-160
 
Keyboard
88 keys
weighted scaled hammer action
3 sensitivity levels, off
Simulated ebony and ivory keys
Sound Source
Multi-dimensional Morphing AiR Sound Source
Stereo-sampled Piano Tones
Polyphony (maximum)
128
Tones
18 Built-in tones
Grand Piano (Concert, Modern, Classic, Mellow, Bright), Elec
Piano 1, Elec Piano 2, FM E. Piano, 60's E. Piano
Harpsichord, Vibraphone, Strings 1, Strings 2, Pipe Organ, Jazz Organ, Elec Organ 1, Elec Organ 2, Bass (Lower)
Simulator
Hammer Response*
Damper Noise*
Damper Resonance*
Digital Effects
Hall Simulator/Reverb – 4 (Reverb)
Chorus – 4
Brilliance – -3 ~ 0 ~ +3
DPS – Yes (Preset for some tones)
Accompaniment
60 Song Music Library
10 song expansion (max) / Approximately 90 KB/song
MIDI Recorder
2 Tracks / 1 song
MIDI Data Capacity
Approximately 5,000 notes total**
Duet Mode
Yes (Duet Pan On/Off)
Octave Shift
±2 octaves
Metronome
0, 2, 3, 4, 5, 6 beats; tempo range: 20 to 255
Pedals
Included : SP-3 (terminal × 1) Optional : SP-33 (damper, soft, sostenuto)
Half-Damper pedal Operation – Yes (with optional SP-33 3-pedal unit)
Key Transpose
2 octaves (-12 semitones ~ 0 ~ +12 semitones)
Tuning Control
A4 = 415.5Hz ~ 440.0Hz ~ 465.9Hz
Lesson Function
Part ON / OFF
Metronome
Yes
Scale-Function
17 Preset Temperaments
Operation Lock
Yes
Pedals
Included : SP-3
Optional : SP-33
Half-Damper pedal Operation Yes (with optional SP-33)
Auto Power Off
After approx. 4 idle hours
MIDI***
Yes
Phones
2 on Front (Stereo Mini)
Pedal
1 (Damper)
Connection for optional 3-Pedal Unit
Yes (SP-33)
Line Out
1/4″ L/Mono, R
USB port (to Host)
Yes
Speaker Size
4.7″ x 2
Amplifiers
8 W + 8 W
Size Dimensions
52″ × 11.5″ x 5.6″ (w/o music stand)
Size Dimensions with Optional Keyboard Stand
52″ x 11.5″ x 30.2″
Weight
25.5 lbs (w/o music stand)
Weight with Optional Keyboard Stand
46.5 lbs
Included Accessories
Pedal (SP-3), AC Adaptor (AD-A12150), Music Stand
Optional Accessories
3 Pedal System (SP-33), Keyboard Stand (CS-67)
PX-160BK UPC
079767362195
PX-160GD UPC
079767362201
* Hammer Response, Damper Resonance are available only for piano tones.
** Capacity values are based on 1 MB = 1,024KB and 1 KB = 1.024Bytes.
*** Not equipped with MIDI terminals. MIDI communication between the product and a computer is performed using the USB port.
Visit Las Vegas Music or call 1-888-355-0628 for the best price!!!