CASIO PX860 / Casio PX860 Review / CASIO PX860 BEST PRICE / CASIO PX860 SOUND COMPARISON & FUNCTION – Digital Piano Best Review
If you have seen many other digital piano reviews, many people praised the Casio Privia PX-850.
Casio PX860 Privia Series  is the successor of Casio Privia PX850.
Casio upgraded the rough sounds of Casio PX850 with smooth dynamic sounds.
For the enjoyment of players, 10 classic songs are included in Casio PX860 to make the grandeur of orchestra.
"Concert Play" and "Orchestra lesson function" are added to Casio PX860.

Here is a demonstration video of Casio px860
As an expert in the field of digital piano, We believe that Casio PX860 is one of the best digital piano a person can ever use.
Casio PX860 has 'AIR Sound' technology which simulates, different position of piano lid, different stages, different compression, and different resonance sound.

Casio PX860 can handle most piano genres and can be played at any place such as church, home, and school.
Within the price range, this compact prestigious digital piano can provide players stability and enjoyment as a trademark digital piano.
Casio PX860 is released with upgrades with same price as Casio PX850, at $1099 and bench is not included.
Casio PX860 Sound
'AIR Sound' sampled, Casio PX860 with resonance with detail and has no lacks as a digital piano.

Compared to Casio Privia PX850, the sound became whole lot smoother and precision of the sound has been upgraded.
Specialty of Casio PX860 is the dynamism and fanciness of the Sound.
Casio PX860 has 256 Polyphony, this means it can provide even more stability compared to other digital pianos. PX860 has concert, classic, modern, mellow, and bright piano types; The 5 different sounds allows user to a much deeper self amusement.
Other instrument sounds like E-Piano, string, organ, and other 13 different sounds are included as a basic options that can be supplemented for other instrumental studies.

The upgraded Casio PX860 has a special function called Concert Play function.
This function allows live orchestra recital of 10 songs in a high quality audio data and performers can listen as they practice which emulates performance in a grand live orchestra.
Special feature of Casio PX860 is that players can adjust the tonality and resonance of the px860 by closing and opening the virtual piano lid.
Piano changes in sound and volume depending on the position of its lid
.
Casio PX860's Stereo Resonance Simulator system can naturally allow user to gain deep annd beautiful resonance with use of damper pedal.
As pedal is pressed damper rises and simulates resonance.

Also, damper pedals have sustained transformation system that with manipulation of pedal, you can express even the smallest detail in changes.
So, the performer can recite even the most elaborate expression with just use of pedal.
Casio PX860 is  20W X 20W =40W modern slim digital piano but has a great sound power output.
[soundcloud url="https://api.soundcloud.com/playlists/49116277″ params="auto_play=false&hide_related=false&show_comments=true&show_user=true&show_reposts=false&visual=true" width="100%" height="300″ iframe="true" /]
Here, you can hear the different resonance of PX860 depends on the type of hall (AiR Sound).
---
Casio PX860 Touch
Casio PX860's unique action is 88-key Weighted Grade Hammer Action which has same size and action as an acoustic piano and with lower keys heavier and becomes lighter as notes get higher.
Casio PX860  does not have spring action that is similar to upright piano action, instead, the grade hammer action of PX860 simulates grand piano.
Casio PX860 has 3 sensors that allow users to feel even the small strength changes in responsiveness.
Also, Casio PX860 has key off simulator that expresses key release effect naturally.
Thus, you can express even small details in sound just like the grand piano.
Also, Casio PX860 is made of exceptional material of ivory and ebony keys that can be effective absorbent with even sweats on performers finger when played for an elongated hours.
.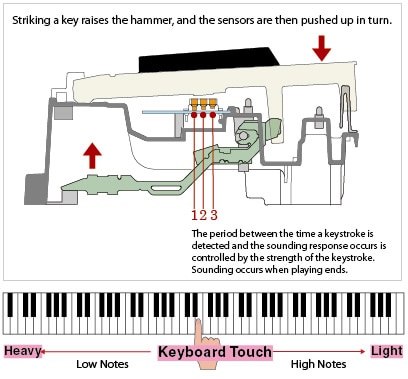 Casio PX860 Function
Casio PX860 Privia Series many functions!
Lesson function | 60 demo songs that can play divided hands: assisted left and right hand lessons to practice each hand before playing both hands simultaneously. Casio PX860 Privia Series  also has Concert Play function and 10 orchestra songs can allow learners to listen into orchestra as they play.
Layer|  With this technique, you can play two different sounds simultaneously on one key. You will be able to play 'piano and string' sound or 'piano and organ' sound simultaneously on one key. You will be able to make the performance more beautiful and will give you more enjoyment.
Split | You can play two different instrument sounds on each hand within a keyboard. For example, left hand can play double bass, right hand can play piano; it gives effect of one person playing two different instrument sound.
Duet Mode| You can divide the keyboard into two separate keyboards with the same chromatic scale. This is will become similar to playing two different pianos; it is fit for performance or a lesson between a student and a teacher.
Transpose| You can easily harmonize with different instruments.
Touch responsiveness control| You can control the strength of touch responsiveness.
Other functions| Casio PX860 has recording, metronome, USB function and it has an OUT IN plug that can connect to another speaker. Casio PX860 also has USB function that connects to computer and enjoy composition and computer music. Also, OUT INPUT Jack can allow connection to another amp and speaker that can allow a better sound power output.
Option|
Casio PX860  is a Home style digital piano with stand and 3 pedal included and top of keyboard includes sliding cover.

Benches can be selected and bought additionally with choice of the shopper.
Warranty|
Casio Privia model's warranty is the best warranty in the industry when judged by company that it is a defect, Casio will replace the item.
You are provided with 1 year plus 2 more years after registration, totaling at 3 year full warranty coverage at convenience.
Color|
Casio Privia PX-860BK (Black), Casio Privia PX-860BN (Brown), Casio Privia PX-860WE (White)
Specs
****Trouble seeing the specification table on your gadget? Here is the original specifications page: http://www.casio.com/products/Digital_Pianos_%26_Keyboards/Privia_Digital_Pianos/PX-860/
Number of keys
88
Key action
Tri-Sensor Scaled Hammer Action Keyboard II
Key surface finish
Simulated ebony and ivory keys
Touch response
3 sensitivity levels, off
Polyphony (maximum)
256
Number of built-in tones
18 new, enhanced tones
Sound source
Multi-dimensional Morphing AiR
Stereo-sampled piano tones
Yes
Layer/Split
Yes/Yes
Hammer Response
Yes (4 levels)
String Resonance
Yes (4 levels)
Damper Resonance
Yes (4 levels)
Lid Simulator
Yes (4 levels)
Key-off Simulator
Yes
Types
Reverb
4
Chorus
4
Brilliance
Yes (-3 ~ 0 ~ 3)
DSP
Yes (preset for some tones)
Number of built-in songs
60
Song expansions (user songs)
10 Songs (max.) up to approximately 90 KB/Song
Concert Play
10 Songs
Top board open/close
Yes
Lesson function
Part on/off
Lesson part select
Right hand, left hand
Recorder
2 tracks, 1 song
Approximate data capacity
Approximately 5,000 notes total
Audio recording/playback
Max. 99 songs approximately 25 min/´song (44.1kHz WAV Format)
Duet mode
Yes
Octave shift
±2 octaves
Metronome
0, 2, 3, 4, 5, 6 beats; tempo range: 20 to 255
Pedals
3 built-in pedals (damper, soft, sostenuto)
Half-damper pedal operation
Yes
Transpose
2 octaves (-12 semitones ~ 0 ~ +12 semitones)
Tuning control
A4 = 415.5Hz ~ 440.0Hz ~ 465.9Hz
Scale function
17 preset scales
Operation lock
Yes
MIDI
Yes
Phones
2, stereo standard jack
Line OUT
2 (L/MONO, R), standard jack
USB port
Yes
USB flash drive port
Yes
Speakers
Size
4.7″x 2 + 2.0″ x 2
2-way 4-speakers
Yes
Amplification
20 W + 20 W
Dimension
(w x d x h)
53.82 x 11.77 x 32.95 in
Weight
78.26 lbs
Accessories
Included accessories
AC adaptor (AD-E24250LW), score book, music stand, headphone hook
Specifications and designs are subject to change without notice.