Roland RD800 is one of the bestselling stage piano.
Many people are aware of the excellent technology and function of Roland digital pianos.
They are also aware that, Rolands are more expensive due to its high quality compared to other brands.
Roland RD800 is made for pianists who search for digital pianos with brilliance and quality.
Roland RD800 is the NUMBER 1 Stage Piano you will ever find on the face of the earth!
Roland's RD series stage piano went from Roland RD700NX then upgraded to RD800.
With this upgrade, the sound chip quality and keyboard quality also became upgraded.
If your budget is around 2000-3000 and the moment you experience Roland RD800, you will most likely consider buying this item.

Roland RD Series were always released with upgrades but price always stayed the same as $2499. Increase in quality of function and technology did not increase the price of Roland RD800.
Roland is the best as a digital instrument. Also, Roland RD800 has the best function and technology way more that its price has to offer.
If you have at least used acoustic piano in the past, you will acknowledge Roland RD800 out of other digital pianos within the same price range.
Roland RD800 is a sleek-style stage piano with prestige and various functions that can provide enjoyment in performance.
Roland RD800 is also recognized because Roland RD800 have escapement technology with in the keyboard.
You will not be able to find other pianos under $2500 that gives you the "click-feel" of Escapement except that of the ROLANDS!
Many in-store shoppers acknowledge the weight of the keyboard and as they play the Roland RD800, they acknowledge it once again.
Nonetheless, Roland RD800 is the sleekest digital piano equipped with truest performance and versatility.
Roland RD800 can be use on stage, church, schools, gigs, and etc..you name it.. I strongly recommend the Roland RD800…
Roland RD800 is the most impressive stage piano WITH great quality speakers, convenient hotkeys, screen, and convenience.
If you would like to purchase a great stage piano under $2500, then we strongly recommend Roland RD800.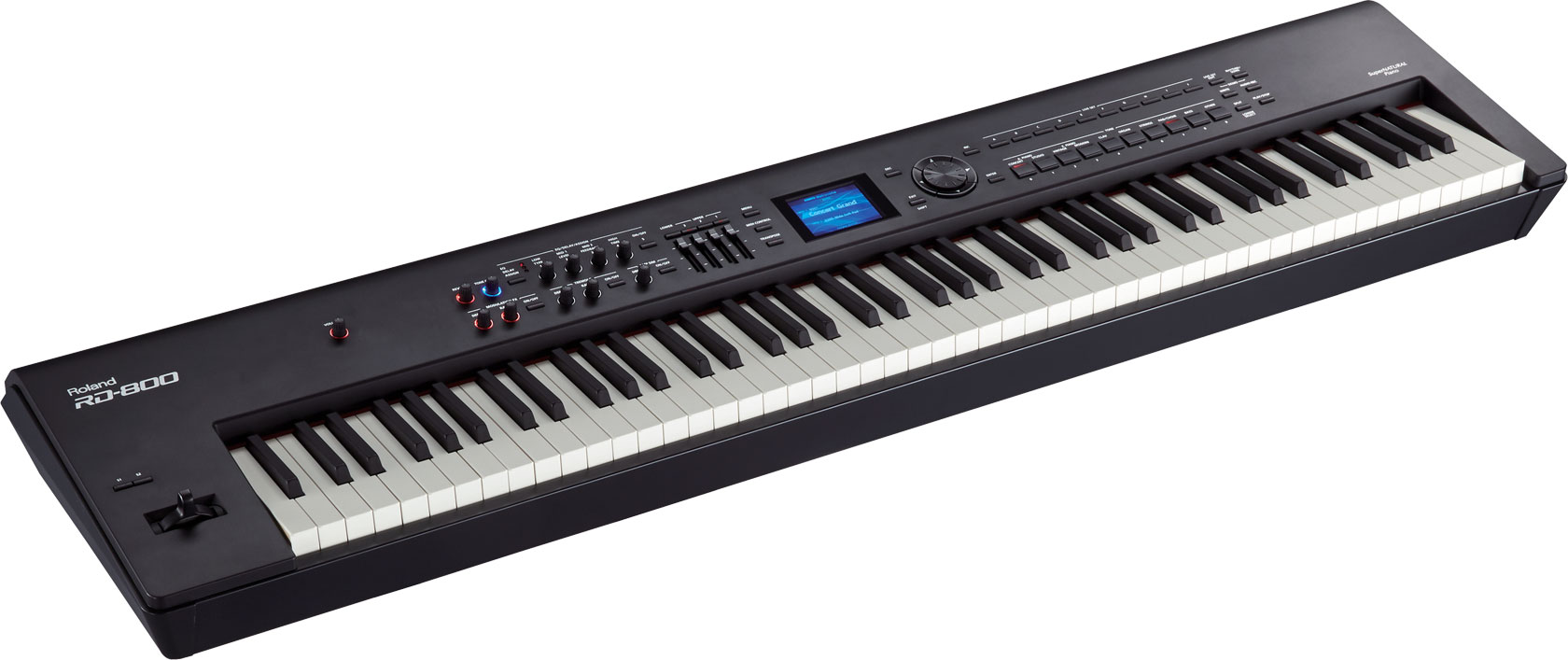 Sound — Roland RD800 also have the technology of "Super Natural Sound" that Roland is very proud of.
Super Natural Sound not only means to have a natural sound but it also means that Roland RD800 will express performance realistically, just like an acoustic piano does.
Roland RD800 won't fabricate nor devaluate the expression of the performer but it will realistically express the performance as is.
The sound of Roland's Grandpiano is sampled from the sound of Roland's flagship V-Piano Grand.
Thus, Roland RD800 has ample sound of clarity and depth.
Sound is a personal preference and if they want a clear sound then it is understandable.
Also, fans of Roland products say that harmonic connection between lower to higher pitched sounds are well balanced.
Most Roland fans in-store are usually music majors and performers of classical music.
Among the professionals, the sound of the Roland digital piano is widely accepted as the most near-perfection
Roland RD800 has 200 different types of live set sounds and has 1113 of other sound tones.
Compared to the number of hotkeys, it has vast amount of different sound types. You can play it comfortably with the 128 Polyphony.
Roland RD800 has greatest sound chips although it is a stage piano with good quality.
Roland RD800 also has 16 sets which 4 of them are used in the live set.
Roland RD800 has realistic sound with great sound functions and options, it can satisfy what customer wants.

Touch —— As stated above, Roland RD800 has weighted keys that have ivory feel which is made to prevent slipping of the finger.
Roland RD800 has 88 weighted hammer actions which makes low-pitched keys heavier and makes the weight of the keys lighter as pitch gets higher.
Action of the keys is acknowledged all over the world.
To emulate realistic grand piano it is made with "click-feel" which is called escapement.
Roland has action level of Ivory G < PHA4 Standard < PHA4 Premium < PHA4 Concert. Roland RD800 made of PHA-4 Concert Keyboard with Escapement and Ebony/Ivory Feel, equipped with the latest touch-detection technology.
This is the-top-of-the-line digital piano action you will ever find in the universe.
You will feel like you are playing an acoustic grand piano.
You can control touch-sensitivity to your own preference for performance.
It's hard to know the pros of Roland keyboard just by pressing on the keys.
Play the actual Roland RD800 piano when you have a chance; you might even become a fan of Roland afterwards.
Roland's keyboard is great for beginner children and also great for practice and performance of experienced pianists.
If you have not experienced advanced Rolands, then I strongly recommend experiencing it.
Roland RD800 has the best keyboard action compared to other digital pianos within the same price range and I proudly recommend the Roland RD800.
Function… Roland RD800 has many different functions.
Sound| With 200 live sets sounds, Roland RD800 has total of 1113 different sounds. From woodwind, brass, string, and electronic sounds, Roland RD800 has various sounds that you can enjoy playing.
Layer| With this technique, you can play two different sounds simultaneously on one key. You will be able to play piano and string sound or piano and organ sound at the same time. You will be able to make the performance more beautiful and will give you more enjoyment.
Transpose| Roland RD800 has transpose of -6, +5 which can be useful harmonizing with different instruments.
Individual Note Voicing| The Individual Note Voicing function makes the tuning from -50_+50 with level:-50_0. Character can be adjusted from -5_+5.
Audio| Roland RD800 has Playback function with ability for you to play WAV files inside of USB like an audio. You can also balance the volume to play along your WAV file with the digital piano.
Wireless USB| You can wirelessly connect to smartphones and smartpads such as iphone and ipads and use Roland-provided APP called Piano Partner for free. (However, Wireless USB Adapter is an optional item)
Other functions include computer USB, Recording function, metronome function, and convenient LED screen.
Option — Roland RD800 is a stage piano with pedal. bench and stand is optional and widely recommended.
Color — Roland RD800 CB (Black), Roland RD800 WH (white)
Warranty — You will receive parts & labor warranty of 2 years and additional 3 years of part warranty.
---
 SPECS
KEYBOARD SECTION

Keyboard

88 keys (PHA-4 Concert Keyboard: with Escapement and Ebony/Ivory Feel)

SOUND GENERATOR SECTION

Maximum Polyphony

128 voices

Parts

16 parts (4 parts are used in the live set)

Sound Generator

SuperNATURAL Piano
SuperNATURAL (E.Piano, Clav)
Virtual Tone Wheel Organ
PCM Sound Generator

Tones

1,113 tones

Live Sets

200

Piano Designer (Only for SuperNATURAL Piano)

Tone Color: 0 – 127
Nuance: TYPE1 – TYPE3
Damper Noise: 0 – 127
Duplex Scale: 0 – 127
String Resonance: 0 – 127
Key Off Resonance: 0 – 127
Hammer Noise: -2 – +2
Character: -5 – +5
Sound Lift: 0 – 127

Individual Note Voicing

Tuning: -50.0 – +50.0 cent
Level: -50 – 0
Character: -5 – +5* adjustable in individual notes, Only for SuperNATURAL Piano

Effects

Modulation FX: 4 systems, 56 types
Tremolo/Amp Simulator: 4 systems, 5 types
Reverb: 6 types
Delay: 5 types
Sympathetic Resonance (Only for SuperNATURAL Piano)
3-band Compressor
5-band Digital Equalizer

AUDIO FILE PLAYER

File Format

Audio Files (WAV format, 44.1 kHz, 16-bit linear)

RECORDER SECTION

File Format

Audio Files (WAV format, 44.1 kHz, 16-bit linear)

OTHER

Rhythm Pattern

200 patterns

Controllers

LAYER LEVEL slider x 4
EQUALIZER/DELAY/ASSIGNABLE knobs x 4 (with illumination)
REVERB knob (with illumination)
TONE COLOR knob (with illumination)
MODULATION FX DEPTH knob (with illumination)
MODULATION FX RATE knob (with illumination)
TREMOLO DEPTH knob (with illumination)
TREMOLO RATE knob (with illumination)
AMP SIMULATOR DRIVE knob (with illumination)
Pitch Bend/Modulation lever
S1/S2 Buttons (Assignable)

Display Theme

3 themes

Display

Graphic color LCD 320 x 240 dots

Connectors

OUTPUT (L/MONO, R) jacks: 1/4-inch phone type
OUTPUT (L, R) jacks: XLR type
INPUT jack: Stereo miniature phone type
Pedal (DAMPER, FC1, FC2, EXT) jacks: TRS phone type
MIDI (IN, OUT1, THRU/OUT2) connectors
USB (COMPUTER) port: USB type B
USB (MEMORY/WLAN ADAPTOR) port: USB type A
PHONES jack: Stereo 1/4 inch phone type
AC In jack

Power Consumption

12 W

Accessories

Owner's manual
Power cord
Damper pedal (capable of continuous detection)
Cord clamp

Options

Keyboard stand: KS-G8, KS-G8B
Piano pedal: RPU-3
Damper pedal: DP-10
Pedal switch: DP-2
Expression pedal: EV-5, EV-7
USB Flash Memory *
Wireless USB Adapter: WNA1100-RL or ONKYO UWF-1** Use USB flash memory sold by Roland and Wireless USB Adapter specified above. We cannot guarantee operation if other products are used.
* Please note that you may have difficulty removing the ONKYO UWF-1 because the USB Memory port is narrow.

SIZE AND WEIGHT

Width

1400 mm
55-1/8 inches

Depth

367 mm
14-1/2 inches

Height

138 mm
5-7/16 inches

Weight

21.7 kg
47 lbs. 14 oz.